While preparing a list of camera equipment to pack on my upcoming honeymoon, I realized I needed (wanted?) some kind of movement for the timelapses I hope to make. At home I use a Igus based lead screw homemade slider controlled by a Chronocontroller (www.thechronosproject.com). I've even made a adapter plate to added panning motion while sliding. These work well enough, but I can't take the slider with me to Hawaii, so I'm settling on a panning base.
A few months ago, Syrp announced the Genie Mini . It's a small, self contained panning base for timelapse and video controlled and configured using a phone or tablet! It would be perfect except it's not on sale yet, and won't be available before my trip. There are a few competing products, but non as slick as the Genie mini right now.
While I patiently wait for the Genie Mini to be released, I sketched up some plans for a small panning base I could haphazardly slap together with parts I already have. It will be controlled using the chronocontroller or miniEngine v2 and a 12v battery.
I'd love something small and as flat as possible. Unfortunately, the bulk of the height is taken by the stepper motor. Using the smallest Nema 17 motor I have lying around, the whole base winds up being 65mm high. A bit stout, especially considering it's 85mm diameter. I needed a flat stepper motor! Sincy my timelapse controllers are programmed to use stepper motors, I prefer to design motion around them.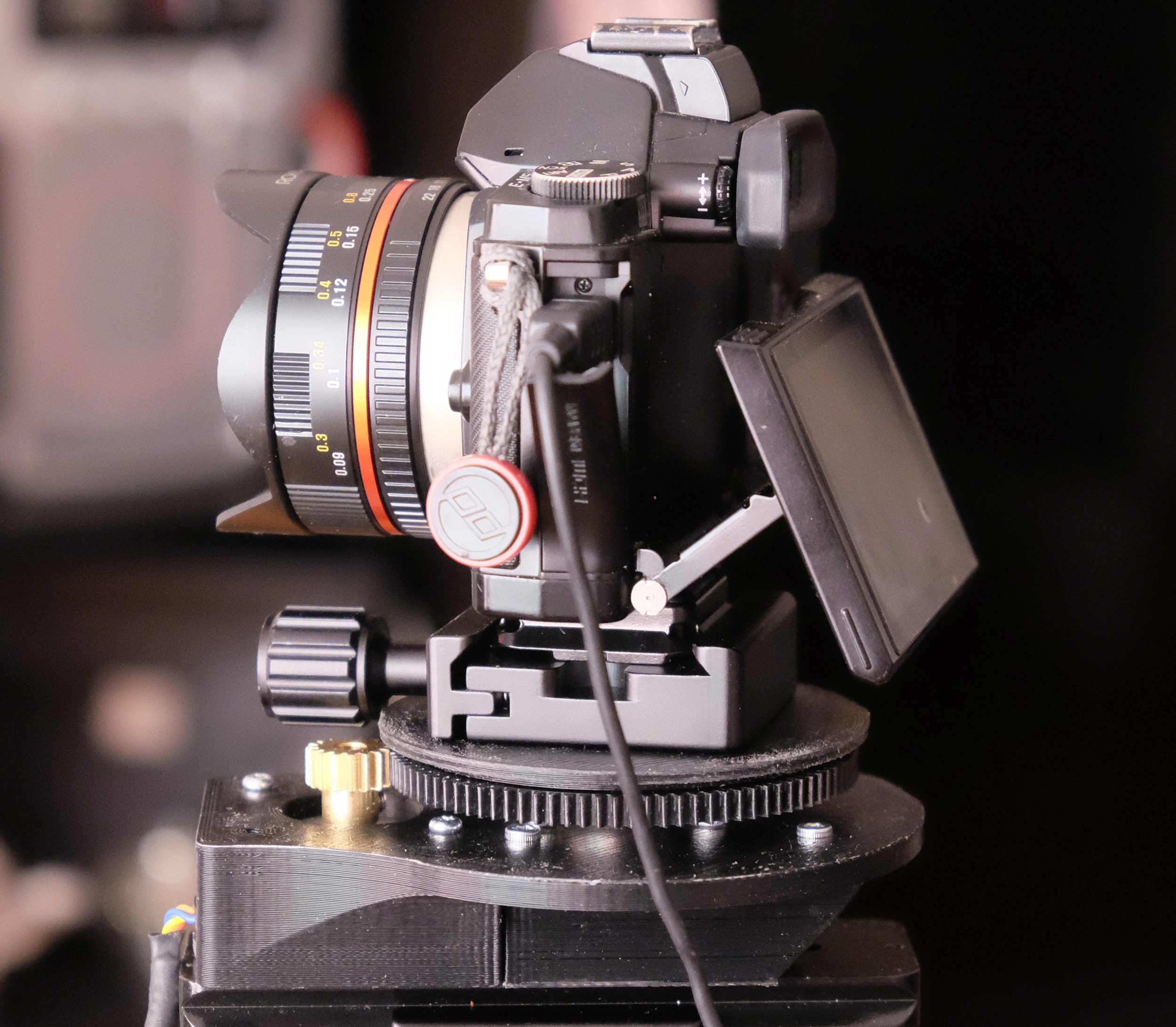 Looking around the internets, I found a Nema 17 "pancake" stepper motor that should work great! A little pricier than most Nema 17 motors, but it's special, and only 18 mm high! Maybe something similar is used in the Genie Mini.
With this fancy pancake stepper, I set out to design something quick and small. It would have to be controlled by my DIY miniEngine v2 box and external battery, or a chronocontroller.
I'd like eventually make this more compact (Hockey puck like) but the next version will have to wait till after this trip. For now, things were looking good! Going even further, I'm thinking making a short slider track I can attach to this base. Might not be sturdy enough for a mirrorless camera, but great for a Go Pro. Stay tuned...
After some printing and tweaks, the final platform was assembled. Still needs a bit of cleanup, but looks good, and works great!